Cover Me's review of Lumpy – Don't Think Twice It's Alright (Bob Dylan)
---
The Current's Friday Five Feature for "Who Makes Them"
---
Billy Webb Melodic Noise Media
Bryan Highhill (AKA Lumpy) is a crafty songwriter with a knack for catchy hooks and memorable trumpet lines. "Who Makes Them" Lumpy's latest video is simple in concept yet enjoyable in delivery.
It's the most recent installment from the "Lump's House" series which features Highhill, guitarist Nate Knutson, and "video clones" of Highhill performing from his basement studio space. It's more or less an edited livestream performance.
The editing is crisp and pans to the trumpets as they kick in shortly after the song begins. The guitar is simplistic allowing a lot of room for a smooth flowing, epic sounding trumpet line. Next, the vocals kick in and are backed by a straightforward Cars-esque new wave guitar riff.
Lumpy knows when to pull back the throttle dynamically and it really adds to the punch of the horns when they do hit. This isn't a standard verse-chorus-verse-chorus-bridge rinse and repeat formula. A spacey post Chorus synth solo, transitioning back into the original horn line makes for an ideal reset back into the second half of the song ending with a triumphant "Who Makes Them" vocal chorus.
It's not easy to keep a five minute and thirty second song interesting, but Lumpy does it here.
"Who Makes Them was originally recorded and released on the first full-length Lumpy album, "From Wilderness Cove" in 2010. This updated version was recorded as part of the "Lump's House" video series – a series that I started in 2020, performing updated versions of older songs from the Lumpy catalog. This recording features Nate Knutson on guitar and baritone guitar, with Bryan Highhill playing all other instruments. Recorded, mixed, and produced by Bryan Highhill." – Bryan Highhill, Lumpy.
Follow on social media: Twiiter, Instagram, and website. Check out Lumpy's most recent album "Slough" and look for a new album coming in the summer of 2022!
---
Lumpy – Life, Man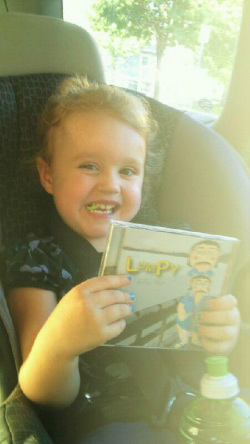 Rob DeWalt Santa Fe Pasa Tiempo
"Former Santa Fe resident and current Minnesota urban dweller Bryan Highhill, aka Lumpy, who once played with the popular Santa Fe Latin/funk/hip-hop collective Felonious Groove Foundation, follows up his 2010 album, From Wilderness Cove, with another self-produced gem titled Life, Man. Infectious and quirky, Life, Man finds Highhill further honing his playful and deeply personal lyrical approach while simultaneously upping the brass, reggae, and dub. But he still does most of the heavy lifting on his own, manning the vocal mic, drums, programming, keyboards, organ, horns, and guitar most of the time. He also did all of the recording, mixing, and mastering. Highhill, his accordion in tow, channels early They Might Be Giants on the short album intro and opener "Outword," the latter carrying a bizarre (and fun) harmonized operatic vocal repetition. The soulful and proficient bass on "Worn-Down Verbal Storms" may sound familiar to Santa Fe music hounds: it's played by Todd Lovato, of Todd and the Fox and Felonious Groove Foundation fame. Lovato contributes electric bass to eight more songs on the disc. Dub and reggae influences serve as solid song bridges on the album and are most evident on the short interludes "The Lake House" and "Right Where You Belong." Highhill, whose penchant for intricate syncopation, left-field sampling, and lyrical and vocal eclecticism served him well on From Wilderness Cove, has created yet another album that deserves instant recognition as an indie-music cult classic."
Thomas Enget MNSka
"Lumpy is the musical project of Bryan Highhill, former member of MNSka favorites the P. Lacquers. Life, Man is the second album from Lumpy, and it's definitely a pleasing listen, whether one is familiar with the band or not.
Released in January of 2012, Life, Man was awarded the honor of "Best Pop Album" at the New Mexico Music awards. It's a fitting award for an album so rich in tone and color. Adding to the accomplishment is the fact that Highhill plays most of the instruments on the album himself, with a talented group of collaborators backing him up with horns and backing vocals.
What makes Life so interesting musically is the sheer amount of sonic influence Highhill brings to the project. The music owes a heavy inspiration to reggae and ska, but it's not limited just to that musical family tree. Besides rock, jazz helps flavor the mix, and there even a few hints of electronica filtered in. Even more interesting is that Highhill reigns all these influences in to create a balance; it would be far too easy to let one sound continue to dominate over the others, or for each track to go its own way into a different musical direction. Highhill creates a unique sound, managing all these influences into one consistent feel that manages to stay steady but also has enough room to flow from track to track to keep things from becoming stale.
The album begins with the pleasantly Beatles-esque "Outword," an introduction of voice and organ that crescendos into a pleasant rocker. "Worn-Down Verbal-Storms" is an upbeat reggae number with a super-catchy horn break and hard-rocking guitars, the early highlight of the album. "Boundaries" introduces strings to the mix to great effect on top of the shifting musical mini-landscape it weaves through.
The album also has its little curiosities, like "The Lake House (Interlude)," a melodica and trumpet-driven instrumental with an introduction that sounds as if it was taped off an answering machine. Then there's the brassy "Corlogy," a second instrumental that showcases a considerable bit of skill in instrumental composition, a musical foray not expected but pleasantly surprising nonetheless. The album's third instrumental, "Walka," gets a little jazzier and a little slinkier than the other two.
The album closes on "A Santa Fe Waltz," which manages to delightfully combine a waltz pattern with drum samples and electronic influences on top of a grand horn line. The final track is a minute length recording of coyotes howling, an interestingly Pet Sounds-ian ending to a great album.
Highhill's lyrical skill is another standout, with "Verbal-Storms," "Boundaries," and "Waltz" being great showcases of this talent. It's a one-two knockout punch: not only is the music good, but the lyrics stack up too (and vice-versa).
All in all, Life, Man is a pleasant and engaging listen, with well-written lyrics and wonderful musical backing. Highhill's broad musical palette gives him an abundance to work with, but he has the discipline to wrangle all of the varied influences into a cohesive sound. The result is a cohesive album, managing both consistency and enough variance to keep things moving and prevent any two songs from sounding too similar. Highhill has mentioned that there are more Lumpy albums in the works, and I surely look forward to hearing them.
Rating: * * * * ½ (out of 5)
Track Listing (a "+" indicates a recommended track):
1. Outword (Introduction) +
2. Outword +
3. Worn-Down Verbal-Storms +
4. Belong to the World
5. Boundaries +
6. The Lake House (Interlude)
7. I Hate to Leave You Like That
8. Corlogy (Instrumental) +
9. Honesty
10. Right Where You Belong (Interlude)
11. Question Everything
12. Walka (Instrumental) +
13. Light Stole The Day
14. One Thing
15. A Santa Fe Waltz +
16. Coyotes"
Shannon Brown Indie Music Reviewer
"When listening to an album for the first time, my mind usually starts making comparisons immediately, such as who the artist sounds like, what they remind me of, etc. Usually the comparisons are to other bands and artists that I am familiar with. When listening to Life, Man, a creative project by Bryan Highhill, under the moniker "Lumpy," again my mind immediately started making comparisons. Surprisingly, this time it was to movies and visions of Broadway-esque plays. Not the serious, dramatic plays, but the fun quirky ones, like the time my seventh grade class went to Lake Eola to see the "revised" version of Twelfth Night.
The album starts with an introduction to "Outword" in which the lyrics say "Tell me where you're going, because I'd like to come along" and come along we do. Through the subsequent tracks we are taken on an adventure with Lumpy, and if you turn around and look in the backseat, you would expect to see characters such as Harold and Kumar, Napoleon Dynamite and Little Miss Sunshine. Throughout the ride, Lumpy rambles on, telling us about his view on life and how he feels about it.
Sometimes great actors are required to give vocal performances in their character's role, such as on stage or in a television episode that the writers decide is going to be a musical. On their own, the vocals would not stand out, or even make it to the finals of a singing competition, but they are still good. This would be the case for the vocals on Life, Man. They aren't bad, but if left to their own devices they wouldn't necessarily stand out either. However, coupled with the musical arrangements and the story and the overall character portrayed by Lumpy, they fit right in.
It's important to note that the album was written, performed, recorded and produced by one person. After listening through, you'll understand why this is so notable. There is a lot going on here! Without knowing anything about the album, you would think there was an orchestra hanging out behind Lumpy, but nope, it's just him and his ambitious dream made reality. There is something to be said for any artist that maintains focus and drive over a two year period to finish a project, and they deserve credit regardless of the final outcome.
There haven't been many albums turned movies, although Pink Floyd's The Wall does come to mind. If another one were to be done, Life, Man should be the next album up for consideration. Although I've only seen an album cover and read a small blurb about "Lumpy", after listening through the album I have a vision of this quirky, fun-loving character full of dry humor, sometimes self-deprecating. Through his music, Bryan Highhill has breathed life into Lumpy, and I sincerely hope that he will continue to thrive through his music and fans.
Rating: 3.5/5 Stars"
Mike Ostrov Nine Bullets
"The first song on Sheffield's EP, "Jeremy Ray's Front Yard," is an homage to The Shadowbox, a beloved Atlanta art space run by Jeremy Ray. It's a great song about communities surviving while landmarks come and go. Sheffield's take on folk is straightforward and endearingly personal. His lyrics are so welcoming and conversational that when Bryan Highhill comes in with horns, they just lift the song up into brass-beaming intimate joy. It feels similar to the way Red Clay River plays behind Tim Barry. Highhill plays horns on all of Sheffield records and he always kills it. The two met at University of Redlands in California and have collaborated ever since. This EP sparks instant fondness.
Buy The Shadowbox EP from Sheffield's bandcamp and visit his website.
Bryan Highhill's solo project is called Lumpy. Life, Man is like an anti-folk carnival, a cavalcade of organized chaos. It's like a desert-coast version of another band-geek-turned-bedroom-virtuoso, Jeff Rosenstock of Bomb the Music Industry! This is a really cool album–it's dense but not at all impenetrable, really fun if you give it a chance. Like Sheffield, Highhill's songs appear confessional and they're generally about fitting in and having problems communicating and keeping your sanity. That's the method to Lumpy's madness: the music is a counter-schizophrenia that propels the listener past his/her doubt, far enough to nod and enjoy trumpet solos.
Buy Life, Man and Lumpy's other albums from his bandcamp and also on iTunes. Find out everything else Highhill from his website."
"11 Choice Albums of 2011" Fallopia
"#10 Bryan Highhill is a brilliant one-man band who's music never fails to make me smile. His newest album is yet another drunken, loopy joyride that is great when you're in the mood for a little bit of sunshine. Not to mention that he jacks up every track with fatty trumpet lines, which in my opinion, can never go wrong.
Favorite Track: "One Thing"
Edina Sun Current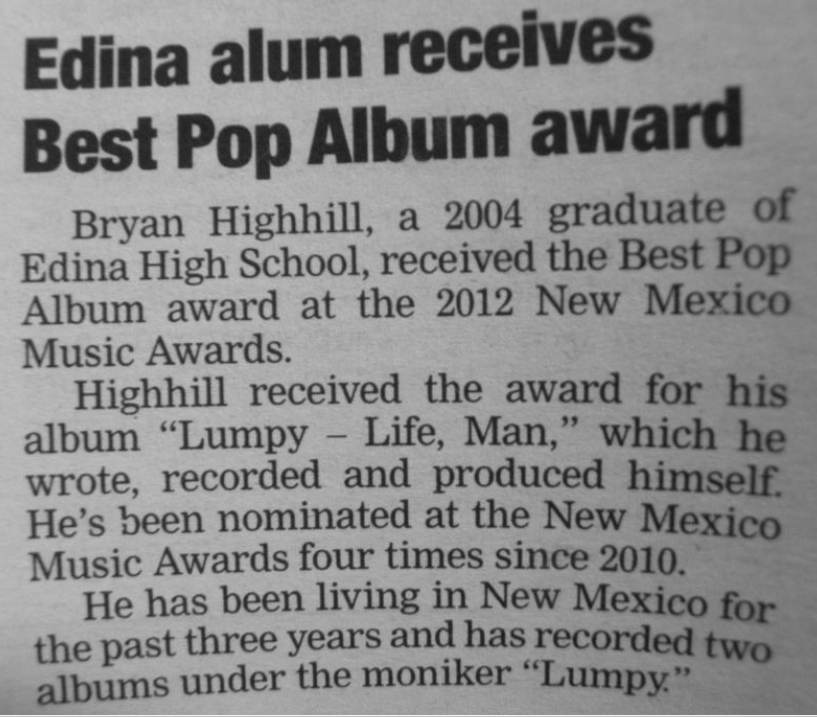 ---
Lumpy – From Wilderness Cove

Rob DeWalt Santa Fe Pasa Tiempo
"LUMPY From Wilderness Cove (self-produced) More than a year in the making, this CD is the newest project from classically trained trumpeter Bryan Highhill, who plays with the popular Santa Fe Latin/funk/hip-hop collective Felonious Groove Foundation. Recorded at the College of Santa Fe, CalArts, Warehouse 21, and bedroom studios between October 2008 and December 2009, From Wilderness Cove is a glistening cherry atop an already generous sundae of great local talent. Highhill ditches the strict party vibe of his funkified Felonious self in favor something more personal, all the while channeling Weezer, Beat Happening, Daniel Johnston, Fishbone, Beirut, Bowling for Soup, and They Might Be Giants. But Highhill is no imitator – nor is he a one-horn wonder. Assuming roles throughout the album as a vocalist, percussionist, piano player, Rhodes keyboardist, fluegelhorn player, trumpeter, guitarist, and programmer (and mixer, and co-producer, along with Frogville Records engineer Matthew "Kabby" Kabakoff), Highhill comes into his own as a regreshingly original and honest lyricist with versatile instrumental chops. He's not a lone in the endeavor, enlisting the help of local guitarist Peter Williams (Love Gun, The Rev. Karol King Kong, W21's School of Rock), drummer Tim Carr, and bassist Graham Chapman, to name a few. To purchase the album and hear samples of songs (as well as Lumpy covers of tunes by Jimmy Cliff and Sam Cooke), visit bryanhighhill.com."
Victoria Fallopia
"If you're looking for the next best thing to getting everything you ever wanted, check out the newest studio album of brassman/troubadour/party-maker Bryan Highhill's musical collective Lumpy coming out of Santa Fe, New Mexico. The album is titled "From Wilderness Cove".
From the first stretch of the first track, you know it is going to be all foolishness. Then you're right, and my birds how delicious it is. There's a swoony loony sort of urgency to this album, like a drunken elephant stumble-rumble-dancing around the rim of a volcano. At any given moment everything is about to collapse in on itself or burst. Hard to say which.
Take the fourth track on the album "Not The Same Man". Thematically it's almost embarrassingly super-pop, and you can't help but feel like Bryan is making fun of you for being so into it. Nevertheless, into it you will be. That's it. See your head, bopping up and down? It's sexy and silly…now that's an accomplishment.
My absolute favorite is the rocking, raucous "Southern Plantlife" (Track 6). This is one of those tracks that leaves you breathless, sweaty, and angry at your mom in a deliciously indulgent, adolescent sort of way. Play the track again, a second time, only louder. Maybe it's not your mom after all, but who gives a damn. The point is that you're half-hitting pitches, screaming words you don't quite understand and driving too fast. It's all the beauty of teenage angst that you were too "chill" to let out when you were younger. Go head. Do it again.
If you're not in love with Lumpy yet, pump Track 10 "Owls" through your speakers and take a little vacation. The entire Lumpy collective shines, reminiscent of The Polyphonic Spree or some epic Sufjan Stevens composition.
Whether it is the stomp-your-feet determinism of "Tell You So" (such fun!) or the pulsing party sing-along "I'll Bring You Down", you can't deny that the feverish horn lines carry this music. As a classically trained trumpet player, Highhill really lets the instrument serve as the mouthpiece of the album, even though the tracks all have vocals. Bryan is playing his own percussion as well, which really serves as a rhythmic interpreter of your heartbeat, doing all the things your organ cannot. Don't put this album on and expect to do something else. It is all very noisy and distracting and Bryan's signature voice is one you can't ignore. But- if you're ready to give yourself to one man, now is your chance.
You can preview the entire album here at bryanhighhill.com but I'm warning you now that the 20 second taste-bytes won't scratch the itch. You might as well buy the whole damn album now. Listen to it twice. The rest is history.
from the horses mouth:
"Tracking was started in October of 2008. Most of the tracking was done at the College of Santa Fe recording studio using pro-tools. But some was also done in my bedroom. Everything was done one instrument at a time and some of the parts and structure were improvised during the recording process. The mixing was done with Apple Logic and the project was completed December of 2009. " – B.H.
(Now just in time for Valentines Day. Nothing says I love you more than sweat & ecstasy.)"